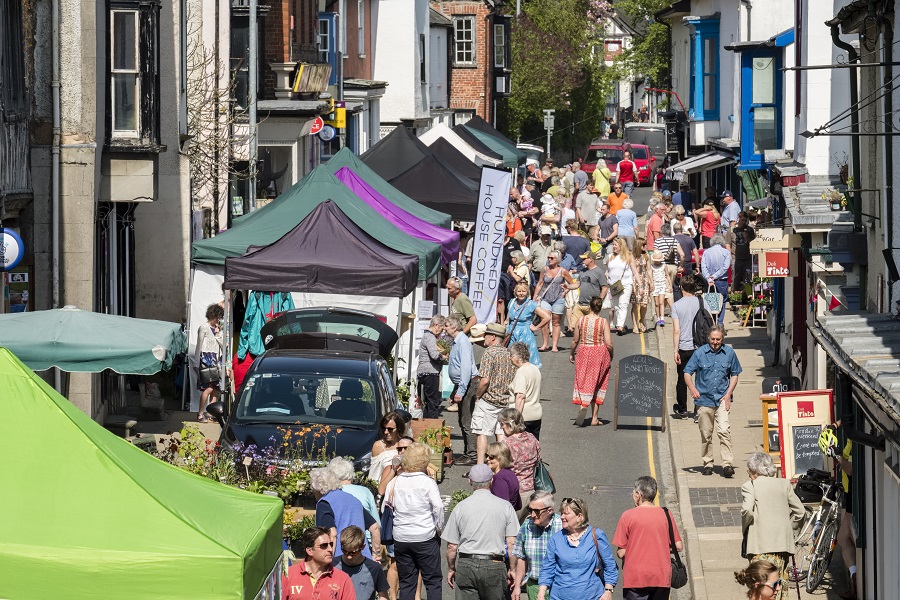 Thank you so much to everyone who came to the Food & Flower Festival and to all the volunteers, participants and local businesses who helped to make it such a wonderful day! 
The Open Gardens raised £1886.36 for St Michael's Hospice, 'We're delighted that the Open Gardens during the Presteigne Food and Flowers Festival raised such a wonderful sum for St Michael's Hospice,' said Paddy Nugent, the Hospice's Community Fundraising Manager, 'Thanks to everyone who opened their garden and to the many generous visitors who donated.'
Terry Wells, Secretary PACDG / Editor Community News commented, 'It was just a wonderful day and a great event for the town. The weather was a huge bonus of course and I don't think I've ever seen so many people around Presteigne, some of whom will have been first-time visitors and have now seen the town at its best'.
Connect donated over £3000, raised at fundraising events over the last two years, to the Town Council to enable them to buy ten pop up gazebos for the community which Connect used at the Food and Flower Festival. These are now available for community groups to hire at no charge for community events. Any group wishing to hire one or more gazebos should contact the Presteigne Town Clerk at pntc@hotmail.com or by phone on 01547 528575.
Connect is a business network membership organisation.
Our mission is to foster and support business in the Presteigne area. Through collaborating and skills-sharing we aim to promote Presteigne as a key destination town for locals and visitors alike.
 
Background and Objectives.
The organisation has been in existence for over 50 years. Our views are often expressed to local authorities, national bodies and our A.M. and M.P. The Connect is seen by Powys County Council as a valuable point of contact with the local business community. We also have close links with the local press and the tourist information office.
Our objectives include:
Providing a platform for members to air their views
Providing a united voice on local issues
Promoting the trading and visiting appeal of Presteigne
Organising regular social activities for the community & the membership
It was Connect's responsibility for the original Town Guides that has brought about the launch of the Town's website and the re-launch of the revised and complementary Town Guide and Town Trail.
Events and Functions
Each year, Connect organises the annual Llanandras Christmas Fayre. It also runs a number of other social and fund raising events.
Connect presents an annual prize, "The Judge's Gavel" to the Vintage Sports Car Club's most promising young person, when the club visits Presteigne and the surrounding hills in October.
A recent undertaking has been to take over and run the Recycling Centre, to prevent it being closed by Powys County Council. This facility is very well used by the community and would be sorely missed if it was closed. Connect receives payments from Powys County Council based on the amount of recycling processed.
Volunteers to assist with all our events are always welcome, you do not need to be a member to help!
Membership
Our membership represents a broad spectrum of local business people, from high street retailers & local businesses to other professional people in the Presteigne and the surrounding area. We encourage all businesses to join us because the more businesses that we represent, the greater the voice of business interests in the town. Membership does not mean that you have to take an active part in every, or any, event. However the active membership does work hard but also has FUN.
We are always looking for new members and new ideas for the promotion of the town, the local area and Connect itself. Current membership cost is only £20 per annum. This amount includes updates through minutes & bulletins, general meetings, invitations to special events as well as representation to Town Council & Powys County Council.  Now, through our page on the Town website, you and your business can be part of a wider virtual community.
Welcome Pack
If you are interested in becoming a member of the Connect please click Welcome Pack. This contains an introductory letter, a synopsis of activities and events, our constitution, contact details for officers, and a membership application form.
Contact Details
CHAIR – Leon Abecassis, The Salty Dog, in the High Street, Presteigne, email  saltydogpresteigne@hotmail.co.uk. Mobile 07805 727486.
VICE CHAIR - stands in for Chair when absent. Eva Venny. 01544 267594.
TREASURER - keeps financial records.
David  Tennant-Eyles, Boultibrooke House, Norton road, Presteigne, Powys, LD8
2EU. Email davidtennanteyles@gmail.com 
SECRETARY - deals with minutes, agendas, and ongoing membership.
Francesca Sandwell. Email francesca.sandwell@googlemail.com. Mobile 07561 012010.
There is a honararium of £300 per annum for this post.
PRESIDENT – chairs the AGM when the above positions are subject to reelection.
James Tennant-Eyles. Email jtennanteyles@gmail.com. Telephone 01544 267363.
Approved Minutes
If you want to view or download approved minutes please click as appropriate, 5th March 2018, 29th January 2018, 7th November 2017, 2nd October, August 21st,  August 7th,  July 31st, June 5th 2017, May 8th 2017, April 24th, April 10th 2017, AGM 10th April 2017, January 2017, May 2016, March 2016, February 2016, October 2015, September 2015, August 2015, July 2015,  June 2015,  May 2015, April 2015, March 2015, February 2015, November 2014,  October 2014, September 2014 August 2014,  July 2014,  June 2014
Minutes of the Connect General Meeting
5th March 2018
Radnorshire Arms
Present: Chair:  Leon Abercasis (LA) David Tennant Eyles (DTE) Eva Venny (EV) Colin Felgate (CF) James Tennant Eyles (JTE)
Minute Taker: Francesca Sandwell
Apologies:
1. Minutes and actions
The minutes of the last meeting on 29th January 2018 were discussed and approved.
Actions:
LA to find a copy of Powys County Council's public liability insurance and send to Gerry McDonnell – complete.
JTE to look into the finer details of Connect's insurance policy and inform Gerry McDonnell – JTE will continue to chase Powys CC for an answer.
LA to speak to Sam at the Wine Bar about putting on a buffet – completed.
JTE to send Terry Wells information about what Connect has used the Bring Site money to support – completed.
2. Treasurer's report
The current balance stands at £4,003.98 up from £2,774.11 at the end of January 2018.
Money in: £494.50 from recycling
Outgoings: £30 for a sign for the Food and Flower Festival
£132.50 to N. Williams for Christmas trees
3. Bring Site Volunteers
JTE has looked at the Connect accounts and provided Gerry McDonnell and Terry Wells with a report on how the money has been spent.
JTE confirmed that the money raised from the Bring Site has not been spent on Connect's running costs.
Between 1st March 2015 to 30th January 2018 the following money had been raised:-
£7,081.45 through subscriptions, Town Council grants and Leon's fundraising events 
£7,006.62 from the Bring Site
The following money was spent:-
£5,276.12 from Connect fundraising for lights installation balance, donations, insurance and admin
£5,019.38 from Bring Site money for tourism project, Christmas fair, costs of new lights, street party, free parking project and food and flower festival
Gerry McDonnell and Terry Wells have asked how future money will be spent. JTE updated that the contract says Connect can spend the money how we wish but that Connect should produce an annual report.
4. Bring Site Insurance
JTE has been chasing and has yet to receive an answer from Powys. JTE has got a quote for Connect to insure the volunteers which was over £300. JTE has advised all the volunteers that until Connect receives an answer from Powys that they should not volunteer. Connect's current policy covers everyone for events and meetings.
Action: JTE will continue to chase Powys CC for an answer regarding insurance for the Bring Site volunteers.
5. Bring Site get together
Three people had come back to LA and stated they were unable to make the evening. LA to phone Gerry McDonnell to decide whether the event should go ahead and look for an alternative date.
6. PAC Funding Proposal
Terry Wells has made a suggestion that some of the Bring Site money could be allocated to projects to benefit the community.
It was agreed that Connect could give £500 to PACDG to administer.
Action: LA to speak to Terry Wells to see if he is happy with PACDG administering the money for community projects.  
7. Membership Drive
EV updated that that 2 people who have attended the Food and Flower Festival have expressed interest in becoming members. Both of these people are self-employed. This highlighted that a lot of people locally work from home and this is something that we could explore in the future. There will be leaflets at the Food and Flower Festival to recruit people.
LA stated that we needed to find someone at the AGM who would like to focus on recruiting more people to Connect.
There is scope with PACDG to create a business directory. However, it was queried whether it was confusing to approach this together.
It was agreed that the directory was a good idea and that businesses could have a free listing and then pay for a more prominent position.
It was highlighted then Connect did not want to be seen to be in competition with the Parish magazine.
The idea of an online listing was muted as it would be a lot of work to keep it up-to-date.
8. Food and Flower Festival updat.
LA updated that the event was coming along nicely.
The flyers are at the printers and are going to be distributed soon. Alison Parry will help LA to hand out the flyers.
EV has been quoted £90 from Broadsheep for a 1/3 page colour ad, £120 for a half page and £210 for a full colour page. The event will also be in the directory for free.
LA reported that Presteigne garage were going to buy a marquee and Presteigne tyres would make a donation towards the event.
LA asked if Sally Butler could have access to the website to provide updates on the Food and Flower Festival.
JTE stated that access could not be provided because of the insurance. However, a password could be given to make changes and then JTE could publish the updates.
Action: EV to provide Sally Butler with JTE's email address.
9. AGM
LA to confirm the date of the AGM
10. AOB
Peter Mace has officially resigned from Connect.
11. Date and venue of next meeting: AGM 24th April at the Radnoshire 19.00