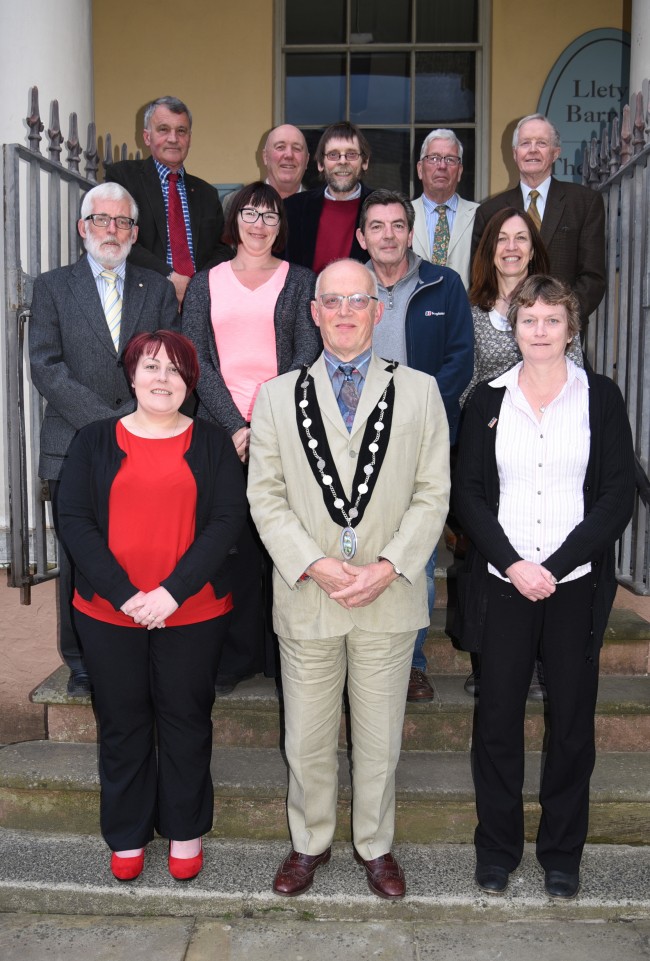 Please scroll down for links to pages on Council Members, Council News, Meeting Dates, Minutes, Planning Applications, Council Regulations, Declarations of Interest and also for archived information (including Local Development Plan documents).
COUNCIL VACANCIES - 
The Council currently has one vacancy for the Norton Ward which will be filled by co-option. If you are interested in being considered for this vacancy please contact the Clerk for more information. Applications to be considered must be received by 30th June 2017.
In addition due to the resignation of Garry Banks the Council also now has a vacancy on the Town Ward. Notices regarding this vacancy will be displayed from 17th May. Initially ten residents may request a formal election if they wish. If this does not happen then the Council will proceed to co-opt as above.
NEXT COUNCIL MEETING -
Full Council - 21st June 2017
EXTERNAL AUDIT NOTICE
Notice re inspection of accounts. and notice of electors rights can be found on the Council Accounts and Audit page. (scroll down this page and click on relevant heading).
COUNTY COUNCIL ELECTION 4TH MAY 2017
Result: PRESTEIGNE ELECTORAL DIVISION
Name                                           Candidate's description                       Votes 
Banks, Garry Richard                Independent                                          200      
Baynham, Beverley Jane       Independent                                        785     Elected
Toomey, Wendy Anne               Independent                                         219      
TOWN COUNCIL ELECTION 4TH MAY 2017
RESULTS PRESTEIGNE TOWN WARD
Bamford, Rose Lane 320 Elected
Banks, Garry Richard 299 Elected
Baynham, Beverley Jane 672 Elected
Bennett, Rory Jones 440 Elected
Hall Shipp, Sharon 128 
Kirkby, Colin 520 Elected
Linnett, Pamela Mary 309 Elected
Owens, Trevor 452 Elected
Preece, Fiona Helen 291 
Rimington, Owen Sinclair 257 
Rogers, Nicholas Aaron 381 Elected
Taylor-Sanders, Margaret Ann 128 
Toomey, Wendy Anne 312 Elected
Veary, Lisa Joanne 221 
Williams, Mark Simon 111
RESULT NORTON WARD
Three candidates elected unopposed - Deb Edwards, Chris Ruby and John Wilding.
One vacancy for the Norton Ward. This will be filled by co-option. Please contact the Clerk for more information.
NOTE: NEXT  COUNCIL SURGERY              3rd June 2017
Town Council Surgeries
These are held on the first Saturday of each month (excluding August) from 10am to 12pm in the Memorial Hall, Presteigne alongside the Farmers Market. No appointment necessary. Please call in to discuss any concerns you may have.
Allotments

.

To download an application form to go on the waiting list click Allotments Application Form

Existing Tenants: To download an application form for a shed, water butt etc click Shed Application Form

 
The Town Council
The Town Council consists of thirteen members, nine representing the town of Presteigne and four covering the village of Norton. All members are chosen by ballot every four years, having been proposed and seconded by parishioners. To be eligible for election, a prospective member has to reside in the community or within three miles of the Parish boundary or own property in the parish.
 
Once elected, the councillors select their own Chairperson for the year (then known as the Mayor) and a deputy. The Mayor presides over all meetings of the Council, which meets once a month.
The Council employs a Town Clerk. The duties of the Clerk include -
ensuring that the council conducts its business lawfully
administering all the council's paperwork
ensuring that meeting papers are properly prepared and the public is aware of meeting times
implementing the council's decisions
overseeing the implementation of projects
keeping property registers and other legal documents
managing local facilities. In Presteigne and Norton this covers the recreation grounds Went's Meadow and Eddie's Meadow, town allotments and two blocks of public toilets.
Among the main concerns of the Town Council are local planning applications, which are forwarded by Powys County Council for any comments or objections. 
Financial responsibilities include paying our clerk, giving donations to help run local organisations, maintaining local amenity grounds belonging to the town and the running and upkeep of two toilet blocks which Powys CC intended to close.
A place on the Council is an interesting position, enabling local people to help care for their own area and environment.
Who are our Councillors?
Councillors for the Presteigne Ward are: Beverley Baynham, Colin Kirkby MBE, Pam Linnett, Rose Bamford, Rory Bennett, Wendy Toomey, Trevor Owens and Nicholas Rogers. One vacancy at present.
Councillors for the Norton Ward are: Deb Edwards, Chris Ruby and John Wilding. One vacancy.
Mayor for 2016/17 is James Tennant-Eyles and Deputy Mayor is Beverley Baynham.
If you would like to know more about the Town Councillors please see the Council Members page below. On this page you will also find individual contact information should you wish to contact one specific Councillor.
Contact and Agendas
To contact the Town Council or any Councillor or to request an Agenda for a forthcoming meeting, please write to our clerk, Tracey Price, Garn Farm, Chapel Lawn, Bucknell, Shropshire, SY7 0BT, via email at pntc@hotmail.com, or telephone 01547 528575.