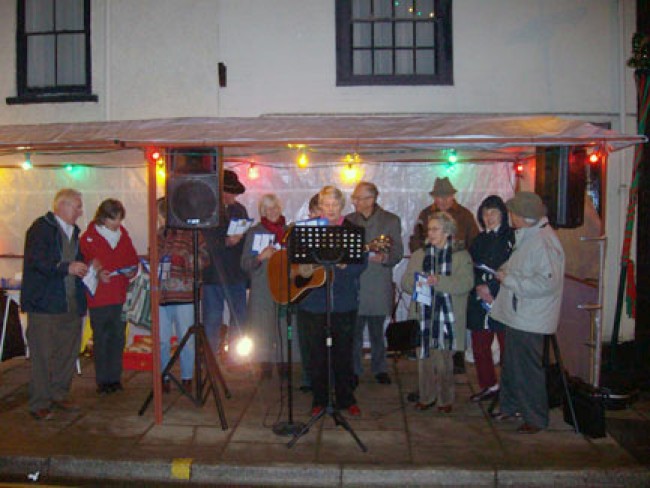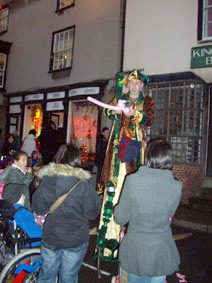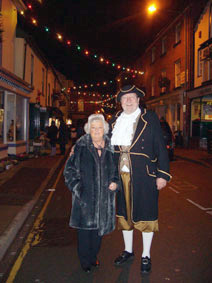 Connect is a business network membership organisation.
Our mission is to foster and support business in the Presteigne area. Through collaborating and skills-sharing we aim to promote Presteigne as a key destination town for locals and visitors alike.
Celebration of shop open for 50 years.
Audrey Cole opened her shop on the High Street 50 years ago on Friday 14th April. The Community Plan Group supported by Connect arranged a celebration on the day. Click here for more details.
 
Background and Objectives.
The organisation has been in existence for over 50 years. Our views are often expressed to local authorities, national bodies and our A.M. and M.P. The Connect is seen by Powys County Council as a valuable point of contact with the local business community. We also have close links with the local press and the tourist information office.
Our objectives include:
Providing a platform for members to air their views
Providing a united voice on local issues
Promoting the trading and visiting appeal of Presteigne
Organising regular social activities for the community & the membership
It was Connect's responsibility for the original Town Guides that has brought about the launch of the Town's website and the re-launch of the revised and complementary Town Guide and Town Trail.
Events and Functions
Each year, Connect organises the annual Llanaandras Christmas Fayre. It also runs a number of other social and fund raising events.
Connect presents an annual prize, "The Judge's Gavel" to the Vintage Sports Car Club's most promising young person, when the club visits Presteigne and the surrounding hills in October.
A recent undertaking has been to take over and run the Recycling Centre, to prevent it being closed by Powys County Council. This facility is very well used by the community and would be sorely missed if it was closed. Connect receives payments from Powys County Council based on the amount of recycling processed, and this is a valuable source of income for Connect.
Volunteers to assist with all our events are always welcome, you do not need to be a member to help!
Membership
Our current membership represents a broad spectrum of local business people, from high street retailers & local businesses to other professional people in the Presteigne and the surrounding area. We encourage all businesses to join us because the more businesses that we represent, the greater the voice of business interests in the town. Membership does not mean that you have to take an active part in every, or any, event. However the active membership does work hard but also has FUN.
We are always looking for new members and new ideas for the promotion of the town, the local area and Connect itself. Current membership cost is only £20 per annum. This amount includes updates through minutes & bulletins, general meetings, invitations to special events as well as representation to Town Council & Powys County Council.  Now, through our page on the Town website, you and your business can be part of a wider virtual community.
Welcome Pack
If you are interested in becoming a member of the Connect please click Welcome Pack. This contains an introductory letter, a synopsis of activities and events, our constitution, contact details for officers, and a membership application form.
Contact Details
CHAIR – Leon Abecassis, The Salty Dog, in the High Street, Presteigne, email  saltydogpresteigne@hotmail.co.uk. Mobile 07805 727486.
VICE CHAIR - stands in for Chair when absent. Peter Mace, The Ducks Nest, in the High Street Presteigne,  email quackyourwayin@gmail.com. Mobile 07583 653019.
TREASURER - keeps financial records.
David  Tennant-Eyles, Boultibrooke House, Norton road, Presteigne, Powys, LD8
2EU. Email davidtennanteyles@gmail.com 
SECRETARY - deals with minutes, agendas, and ongoing membership.
Francesca Sandwell. Email francesca.sandwell@googlemail.com. Mobile 07561 012010.
There is a honararium of £300 per annum for this post.
PRESIDENT – chairs the AGM when the above positions are subject to reelection.
James Tennant-Eyles. Email jtennanteyles@gmail.com. Telephone 01544 267363.
Approved Minutes
If you want to view or download approved minutes please click as appropriate, June 5th 2017, May 8th 2017, April 24th, April 10th 2017, January 2017, May 2016, March 2016, February 2016, October 2015, September 2015, August 2015, July 2015,  June 2015,  May 2015, April 2015, March 2015, February 2015, November 2014,  October 2014, September 2014 August 2014,  July 2014,  June 2014
Connect - The Presteigne Area Business Network
Minutes of the General Meeting on 5th June 2017
Radnorshire Arms Meeting Room
Present: Chair: Leon Abercasis (LA) Peter Mace (PM) David Tennant-Eyles (DTE) Colin Felgate (CF) Kevin Lole (KL) Eva Venny (EV)
Secretary: Francesca Sandwell (FS)
Guest: Dr Gerry McDonnell (GM) Acting Co-ordinator of the Bring Site Volunteers and Representative of the Presteigne Area Community Development Group
Apologies: James Tennant-Eyles (JTE) Mark Hughes (MH)
Minutes and actions of meeting held on 8th May 2017
1. The minutes of the last meeting were approved and actions from the previous meeting were discussed:
Completed:
DTE to circulate new name before next meeting
LA and PM to speak to Awards for All and confirm the grant can be used for towards Sheep Music
DTE to set up an online calendar
LP to check if she has a spreadsheet of members
LA to draft mission statement
Outstanding:
DTE to speak to Jane Bywater about promoting the Chamber of Trade's new name in local newspapers
LA to bring event ideas to the next meeting
LA to speak to Stitches
DTE to get Facebook login details from Anne Wake
Members to bring ideas for promoting 'Shop Local Presteigne' to next meeting
2. Treasurer's Report
DTE reported that the balance was £6,034.46 up from £5,384.46 at the last meeting. This included several membership fees.
3. New name for the Chamber of Trade
Following the last meeting, DTE had circulated several ideas for a new name. After some discussion it was agreed that 'Presteigne Independent Business Network' was the preferred choice. Other names for 'network' were discussed, including collective, syndicate, group, association, alliance and committee but all were discounted.
DTE's idea of a logo or brand was then discussed. The feedback surrounding this was mixed and no agreement was reached over email.
LA stated that he liked the idea of an easily recognizable symbol and other members were in agreement with this idea.
Words for the logo including link, connect, weave and gateway were all considered.
After some discussion, members voted that 'connect' should be included in the logo.
4. Sheep Music and Awards for All grant
PM reported that Sheep Music were keen to accept the Awards for All grant and had a plan for how to use the money. The Big Lottery Fund is happy to accept the grant revision and has confirmed that Sheep Music can use the money. Sheep Music has a shortfall of £3-4k so this money should allow them to break even and help ensure that the event becomes self-sustainable.
5. Funding for the lights
Following discussions about the money from the Bring Site being used to fund the Christmas lights for Presteigne, LA stated that he had received an email from Sharon Hall Shipp, one of the volunteers from the Bring Site. In her email, Sharon stated:
"I understand that the operation of the bring site generates funds which the Chamber of Trade then pledges to community causes. I would like to know more about the projects which these funds have helped so far and also about how decisions will be made regarding the use of the funds in the future. We all know that the community is generally strapped for cash and that there are many activities which could potentially benefit."
LA reported that he had invited Sharon to attend the meeting to discuss this and also highlighted a letter which had been sent previously by JTE to the Bring Site volunteers:
"I write to thank you, on behalf of the Chamber of Trade, for your support with this project. The Chamber is tremendously grateful for all your efforts in turning out on an ongoing basis, regardless of rain or shine, to maintain the recycling site in such wonderful condition.
"You may be interested to know that the Chamber has received a net income, after minor expenses on equipment required, of £1953 for 15/16, £2405.01 for 16/17, and £519.48 for the current year to date. The income has helped to fund the work the Chamber does in supporting the community, such as the Queen's Street Party and the Christmas Fair and particularly in its ability to have funded new Christmas Lights for the Town last year."
GM stated that it would be useful if the Chamber of Trade could provide a breakdown of how much of the Bring Site money had been spent on each event.
LA agreed that this would be a good idea and that this information could be taken from the accounts.
It was hoped that by highlighting the Bring Site's achievements this would help to recruit more volunteers.
DTE to send an electronic copy of the accounts to GM
6. Food and Flower Festival 2018
Following the success of the food trail in Presteigne, 3-4 years ago, LA suggested that he was keen to run a Food and Flower festival in May 2018. The high street would be closed off and there would be stalls selling food and plants. It was hoped that people in Presteigne would also open their gardens to the public.
LA reported that he had spoken to David Wheeler from Bryan's Ground and he would like to be involved.
DTE highlighted that the feedback from the Christmas fair was that the event would need to properly integrate traders on the high street to ensure its success.
Some members expressed concern that gardens might not be ready at the beginning of May.
GM suggested that LA needed to speak to the Gorilla Gardeners in Presteigne to ensure that there would be sufficient flowers in May for the festival.
LA stated that the Chamber currently had £1,600 to purchase market stalls for the festival but needed to hold another couple of events to raise the rest of the money.
All members present were in agreement that a Food and Flower Festival in May 2018 was a good idea and that the event should be held on the 1st May bank holiday.
7. Events Calendar
DTE confirmed that he had created a Google calendar, which was a centralized place to ensure that everyone could view upcoming events for the Chamber of Trade.
GM stated that it would be good to have other community group meeting dates and events so that everyone was aware.
DTE has also set up a Mailchimp account, which will help to streamline communications as different mailing lists can be created and stored.
8. Free parking update
GM updated the meeting on the first week of free parking in the Shoppers car park in Presteigne (Friday 2nd and Saturday 3rd June), which the Chamber of Trade was funding. This coincided with the Presteigne Farmers Market.
There was an increase in the number of cars parking in the Shoppers Car Park compared with the data collected in 2016.
The overall average percentage occupation for Saturdays for the period July-September in 2016 was 11, whereas the overall mean for 2nd June 2017 was 12 and for 3rd June was 21.
There were two Saturdays in 2016 that coincided with Markets at the Memorial Hall. On 6th August 2016, the overall mean was 15 and on 1st October was 18. The highest occupancy occurred between 10-11am with 46% of the places occupied, the highest recorded in either survey (2016 or 2017).
Mean length of stay on Saturday 3rd June was 39 minutes. The shortest stay was 5mins and the longest stay was 2 hours and 29 minutes.
With regards to fees, 38 drivers wanted to stay for one hour (38 x £0.70  = £26.60) and 2 drivers requested two hours (2 x £1.30 = £2.60). In total, £29.20 was paid to cover the cost of parking.
It was agreed that this initiative needed to be promoted in the local press. DTE stated that JTE knew Jane Bywater well and that she could help.
GM suggested that the Chamber of Trade needed to speak to the Town Council and all other local groups about their findings. It was hoped that the Town Council might lead on this and that County Councillor Beverley Baynham could approach Powys County Council for a meeting.
JTE to speak to Jane Bywater about promoting the free parking initiative
9. AOB
Payment for FS was discussed and it was agreed by all members that this would be paid on a monthly basis by standing order.
10. Date and venue of next meeting
3rd July 2017 at the Radnorshire Arms