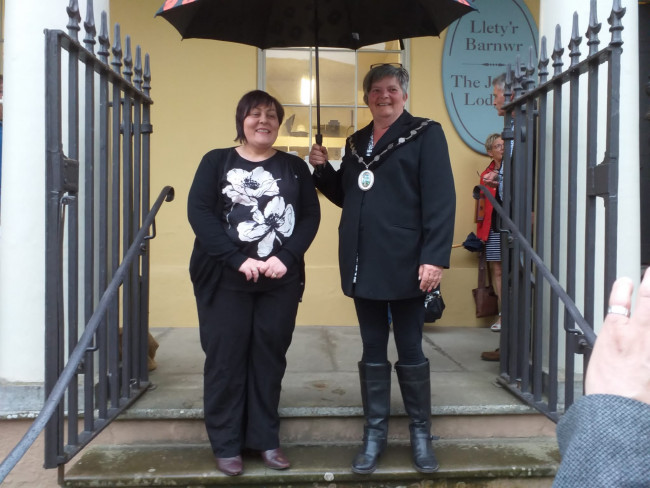 Please use the drop down menu on the Home page to access pages on Council Members, Council News, Meeting Dates, Minutes, Planning Applications, Council Regulations, Declarations of Interest and also for archived information (including Local Development Plan documents).
Please see the foot of this page for information concerning the privacy of  your personal data.
Presteigne and Norton Investment Plan Survey:
Powys County Council has commissioned Rose Regeneration to produce an Investment Plan for Presteigne, Norton and the surrounding area. Rose Regeneration has created this survey to help the development of an evidence base of need and demand from inhabitants in the area. Please note that any references to Presteigne below includes Norton and the surrounding area.
We want to hear from you how you think Presteigne might benefit from inward investment in order to build on its strengths and to realise its full potential as a thriving and sustainable market town.
The survey should take no more than 10-15 minutes for you to complete. We will treat all responses as highly confidential and will release the results over the course of the Summer.
Thank you very much for your input. 
Please complete this if you can it will help inform the production of the plan and see your views are considered.
https://www.surveymonkey.co.uk/r/MBJFX58
NEXT FULL COUNCIL MEETING:  17TH AUGUST 2022
Meeting papers available 11th August.
Join Zoom Meeting - https://us06web.zoom.us/j/88354126570?pwd=ZHYxL1UrVHYvOEEyc1BNYzVkcEdvdz09
Meeting ID: 883 5412 6570   Passcode: 008303
Dial by your location - 0208 080 6591 United Kingdom
   
Find your local number: https://us06web.zoom.us/u/kbKvTk6zt5
LATEST DRAFT MINUTES (JULY 2022) AVAILABLE HERE.
Meetings are normally held at the Assembly Rooms, Broad Street, Presteigne with a video conferencing option but may also be held via video conferencing only. Details of venue/link to meeting will be on the relevant agenda and on this page.
NOTE: NEXT  COUNCIL SURGERY  - TO BE CONFIRMED
Town Council Surgeries
These are normally held on the first Saturday of each month (excluding January from 10am to 12pm in the Memorial Hall, Presteigne alongside the Farmers Market. No appointment necessary. Please call in to discuss any concerns you may have. Please note you may at any time also approach the Clerk or any Councillor with a concern or question. If the matter is urgent please contact the Clerk immediately.
Allotments

.

To download an application form to go on the waiting list click Allotment Application Form

Existing Tenants: To download an application form for a shed, water butt etc click Shed Application Form

 
Community Tables/Gazebos
These are available for use by community groups located within the Presteigne and Norton Town Council area. An application form must be completed and any damage must be rectified. If you need more information or to chat about potential use please contact the Clerk, Tracey Price @ presteigneandnortontc@outlook.com. Please apply at least two weeks in advance.
Small Grants
The Town Council awards a small number of grants to local organisations such as Presteigne Colts, Presteigne and Norton Community Support. Grants are flexible and can be for one off items or to help towards general running costs. For full details see the Council grant awarding policy and application forms. If you would like to discuss the possibility of a grant please contact the Clerk or speak to any Councillor.
Small Grant Application Form (New applicant)
Small Grant Application Form (Request to renew existing grant)
The Town Council
The Town Council consists of thirteen members, nine representing the town of Presteigne and four covering the village of Norton. All members are chosen by ballot every four years, having been proposed and seconded by parishioners. To be eligible for election, a prospective member has to reside in the community or within three miles of the Parish boundary or own property in the parish.
 
Once elected, the councillors select their own Chairperson for the year (then known as the Mayor) and a deputy. The Mayor presides over all meetings of the Council, which meets once a month.
The Council employs a Town Clerk. The duties of the Clerk include -
ensuring that the council conducts its business lawfully
administering all the council's paperwork
ensuring that meeting papers are properly prepared and the public is aware of meeting times
implementing the council's decisions
overseeing the implementation of projects
keeping property registers and other legal documents
managing local facilities. In Presteigne and Norton this covers the recreation grounds Went's Meadow and Eddie's Meadow, town allotments and two blocks of public toilets.
Among the main concerns of the Town Council are local planning applications, which are forwarded by Powys County Council for any comments or objections. 
Financial responsibilities include paying our clerk, giving donations to help run local organisations, maintaining local amenity grounds belonging to the town and the running and upkeep of two toilet blocks which Powys CC intended to close.
A place on the Council is an interesting position, enabling local people to help care for their own area and environment.
Who are our Councillors?
Please see the Council Members page for information and contact details for each Councillor.
Contact and Agendas
To contact the Town Council or any Councillor or to request an Agenda for a forthcoming meeting, please write to our clerk, Tracey Price, Garn Farm, Chapel Lawn, Bucknell, Shropshire, SY7 0BT, via email at presteigneandnortontc@outlook.com, or telephone 01547 528575.
COMMUNITY CONSULTATION FEBRUARY 2017 -
Details now to be found on the Archive page http://presteigne.org.uk/node/148.
Privacy Notice: Presteigne and Norton Town Council takes the protection of your data seriously. Our aim is to provide a personalised and valuable service whilst safeguarding our users' privacy. Please see the full privacy policy for this website at the foot of the main home page or to see the Town Council privacy policy please see the Council Regulations page or contact the Town Clerk for a printed copy.